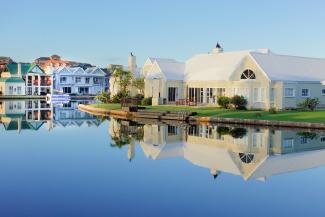 Pros and Cons of Buying a Summer Vacation House
Whether you live in the colder climates of the northern United States or in a densely populated urban area, you might find that summer is a great time to get away. If you're tired of renting condos or staying in hotels, one of the best ways to avoid that hassle is to purchase your own summer vacation home. Doing so allows you to return to a favored locale, time and again, while developing a connection within the local community. Before you make such a big decision, be sure to consider the pros and cons of doing so.
Pro - Extra Income
The very term "vacation house" infers that you will only be using it for certain portions of the year. Whether you go there in the summer months or use it for winter vacations to escape the cold climate of your primary residence, there will be weeks and months when you do not use your summer vacation house. When you are not using it, you can rent the home out to earn some extra income. According to figures from Travel & Leisure, Airbnb users earn an average of $924 a month renting out a home. If your summer vacation home is in a particularly popular destination, you could earn even more during high-demand travel periods.
Con - Extra Expenses
Buying a summer vacation home can earn you some extra income, but it also brings with it extra expenses. For starters, there is the cost of purchasing a second home. This includes a down payment on a second home, the mortgage for that summer home, and the cost of utilities. Other expenses include TV connections, internet access, and furnishing a second property. You will also find yourself paying for maintenance on that second home and the cost of hiring a company to watch over the property.
Pro - Save Money on Travel
As mentioned earlier, traveling comes with plenty of costs. Examples of those costs include airfare, food, recreational outings, and lodging. If you own a summer vacation home, you are likely to find yourself saving money in the long run. You will not have to spend money for each night in a hotel room, you will have a full kitchen in which you can cook meals rather than eating out three times a day, and you will not have to throw away leftovers. On top of it all, if you occupy that summer vacation home long enough each year, you can deduct taxes and interest on the mortgage for that property. This will help lower your personal income tax liability.
Con - Economic Downturns
The root of the Great Recession in 2008 was the massive downturn in the housing market. As subprime mortgages collapsed on a grandiose scale, millions of Americans found themselves underwater on mortgages. Almost overnight, the properties that millions owned were worth less than the mortgages owed on the home. An economic downturn can pose an immense risk to your personal finances if you own a second vacation home.
Even if you remain on the positive side with your mortgage balance compared to your home's value, you could find yourself paying for two homes without the extra income you typically receive from your vacation property. One of the first industries to suffer in an economic downturn is tourism, which means fewer people interested in renting your vacation home and a lower income stream for you.
Owning a summer vacation home has its pros and cons, so it is up to you to consider both sides before making this investment.