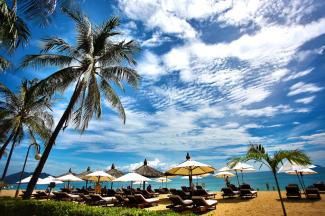 3 Tips for Smart Spending on Your Summer Vacation
There is no greater joy in the summer than taking a vacation. Travel solo or take the family with you; summer is the best time to bring everyone together on a whirlwind trip. However, taking a trip this summer vacation should not mean suffering financially for the rest of the year. Before you hit the road or fly the friendly skies, do your research so you can spend smarter, not just more, this year on your summer vacation.
 Be Flexible
From start to finish, you will save more on your 2017 summer vacation if you adopt a flexible approach from the get-go. For the folks at Bankrate, flexibility sometimes means being open to a variety of destinations and narrowing down your choices only after you have done some research on the affordability of each of the different locations.
A true key to saving on your summer vacation is to simply plan ahead. The earlier you look for airline flights, the more affordable it is likely to be, as more seats on more flights will be open. It is often cheaper to book sooner, rather than pay higher prices for last minute travel arrangements and accommodations. Circling back to flexibility for a moment though, if you plan ahead it gives you the option to open your calendar to different travel days.
If you have flexible days in mind for travel, you can find lower airfare and book accommodations for a lower price as well.
 Seek the Advice of Others
US News & World Report suggests taking the advice of others when planning your trip. This does not mean letting someone book your tickets, hotel, and activities. What it means is seeking out the advice of others who have gone before you. If you are not familiar with the destination chosen, then read the reviews online and try the hotels, restaurants, and local activities that others who have traveled there before you enjoyed. You might have to open your mind to some new ideas, but it will make your trip that much more memorable and avoid wasted time on activities that you might otherwise have to guess whether it is worth your time.
 Don't Miss Out on Discounts
From AAA to USAA, there are hundreds of discounted rates available for airfare, rental cars, hotel rooms, and even local activities through sites like Groupon and Yipit. Before you go anywhere, search through these types of vendors to see what deals you can find on travel and accommodations.
 While you are looking, do not forget to consider your own earned rewards. Travel miles credit cards and customer reward cards can get you discounted airfare and hotel rooms. Using sites like Kayak, Expedia, and others can help you save money when booking a flight and a hotel together. Generally, the more you bundle together when buying, the more you will save in the long run.
 Summer vacation should be a time to relax and reconnect with friends and family. It will cost you money, but it does not have to put you in the poor house. Follow these three tips so you can spend smart on your 2017 summer vacation.  For more information, please contact Hughes Warren.